In-House Service Capabilities at Q Air-California
Q Air-California's 22,000 square foot service and repair facility is well suited to handle your compressed air repair needs.
Air end repairs
Complete compressor overhauls
Water to air cooled conversion
Custom built sound enclosures
Unit cleaning and painting
Cooler replacements
Unit modifications/retrofitting
Custom fabricated baseplates and skids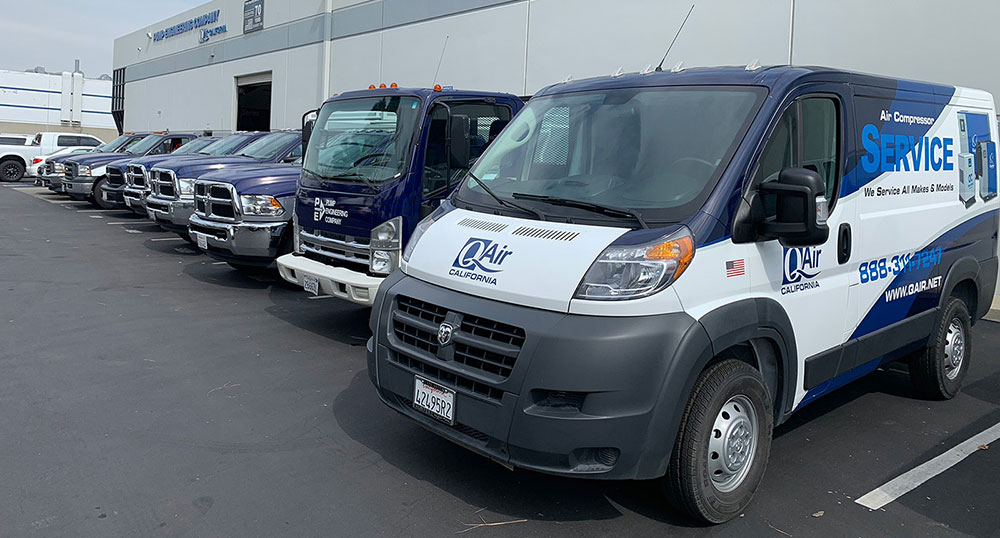 Areas We Serve
Examples of Our Work
These photos represent a small example of the in-house service capabilities offered by Q Air-California. For more information, or to receive a quotation, please contact our service department.
Preventative Maintenance Agreement
Q Air-California - Compressed Air Systemes
Q Air-California will evaluate your compressed air system and determine a proper maintenance schedule based on usage and input from plant personnel.
Q Air-California will prepare a Preventative Maintenance Agreement, breaking down the services, intervals, and cost per service.
Q Air-California will then enter all of the information into our computerized service scheduler, making sure to alert our service department when each of your units are due for service.
When due for service, our service department will call you to schedule a date and time for service, eliminating the need for your maintenance staff to notify us.
Unlike some of our competitors, our Preventative Maintenance Agreement is an agreement, not a contract, which can be cancelled at any time.
Benefits of a Maintenance Program
Increase reliability of your compressed air system.
Forecast maintenance costs.
Plan services around plant shutdowns or non-production days.
Discounted labor rates.
No need to call for service, we will call you.